While fares are suspended until September 30, we are working hard to create a safe, contactless and convenient ways to pay your bus fare.
Validators will be installed on Local Routes & Park-n-Ride buses to simply tap your cell phone to pay with our EZfare app.  You can download EZfare app or use it in your favorite trip planning app so you can simply plan and then pay.  Available at: transit | Uber (coming July 2020) | Moovit (Fall 2020)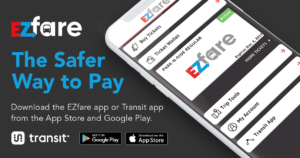 Driver Barriers are also being installed on Local Route and Park-n-Ride buses.
Effective March 2020, Dial-a-Ride customers will prepay their fares when the make a reservation by phone or online with Request-a-Ride.