Ride & Read Programs
Oh the places you'll go… on Laketran!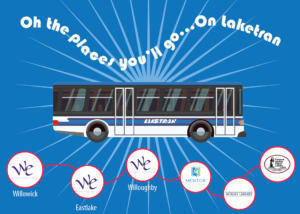 This summer, Laketran is teaming up with area libraries to bring you a variety of Ride & Read programs for the whole family! Need a fun activity for the kids this summer? Attend one of our story times on the bus. Know a neighbor or family member that could benefit from Laketran? Get them started by attending a travel training class.
Libraries along Laketran Passport
Laketran has partnered with Lake County libraries along Local Routes 1-6 to create a Libraries along Laketran Passport program to encourage you to visit libraries throughout Lake County. Take Laketran Local Routes to all of the libraries listed on the passport between May 28 and August 2 to receive a passport stamp and be eligible to win prizes. Pick up your passport at participating libraries and receive your stamps at each circulation desk. Once completed, one child and one adult winner from each library will be chosen as our grand prize winners!
Story Time on the Bus
Story time with a twist… join Laketran at your local library this summer for a special bus themed story time!  Families will be invited on board a Laketran bus for a story time filled with books about exploring by bus, songs, and activities. Space is limited on board the bus, some libraries require pre-registration, so be sure to sign up with your library in advance.
Willoughby Public ­­Library
30 Public Square
Willoughby, Ohio 44094
Thursday, May 30
10 a.m. & 10:45 a.m.
Along Laketran Route 2
Eastlake Public Library
36706 Lake Shore Blvd.
Eastlake, Ohio 44095
Friday, May 31
10 a.m. & 10:45 a.m.
Along Laketran Route 3
Mentor Public Library (Main Branch)
8215 Mentor Ave.
Mentor, Ohio 44060
Tuesday, June 4
11 a.m. & 11:30 a.m.
Along Laketran Route 1
Willowick Public Library
263 East 305th St.
Willowick, Ohio 44095
Monday, June 10
11 a.m. & 11:45 a.m.
Along Laketran Routes 3 & 6
Morley Library
184 Phelps St.
Painesville, Ohio  44077
Tuesday, June 11
11 a.m.
Along Laketran Routes 1, 4, & 5
Fairport Harbor Public Library
335 Vine St.
Fairport Harbor, Ohio 44077
Thursday, June 13
2 p.m.
Along Laketran Route 5
Learn about Laketran Sessions
Have you been considering Laketran for you or someone you know, but are not sure where to start? The library Learn about Laketran travel training classes are the perfect introduction to Laketran.
During a travel training, you will learn how to read bus schedules, use our mobile app, plan your trip, and pay your fare.
Travel Training is for all ages and abilities. Sessions are free for anyone interested in learning more about Laketran. Even if you already ride Laketran, you are encouraged to join us to learn about our real-time Rider Tools and mobile payment options coming this summer. For session times, contact your local library or call Laketran at 440-350-1008.
Mentor Public Library (Main Branch)
8215 Mentor Ave.
Mentor, Ohio 44060
Monday, June 10
2 p.m.
Along Laketran Route 1
Willowick Public Library
263 East 305th St.
Willowick, Ohio 44095
Wednesday, June 12
2 p.m.
Along Laketran Routes 3 & 6
Fairport Harbor Public Library
335 Vine St.
Fairport Harbor, Ohio 44077
Thursday, June 13
2 p.m.
Along Laketran Route 5
Morley Library
184 Phelps St.
Painesville, Ohio  44077
Monday, June 17
2 p.m.
Along Laketran Routes 1, 4, & 5
Willoughby Public ­­Library
30 Public Square
Willoughby, Ohio 44094
Wednesday, June 19
2 p.m.
Along Laketran Route 2
Eastlake Public Library
36706 Lake Shore Blvd.
Eastlake, Ohio 44095
Tuesday, June 25
2 p.m.
Along Laketran Route 3