New Route 8 – Coming  Fall  2020
UPDATE:  May 20, 2020
Laketran releases a draft of new Mentor/Mentor-on-the-Lake route with peak service along Tyler Boulevard that extends to Painesville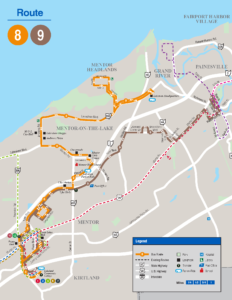 From public comments received, Route 8 – Version 2 emerged as the preferred route design. Laketran drafted a new bus route with Route 8 and Route 9 to serve destinations prioritized in our public survey.
Laketran's Route 8 (orange) will travel between Lakeland Community College and Mentor-on-the-Lake, Mentor Headlands and Laketran Headquarters. Route 9 (brown) will travel from Painesville along Diamond Centre and Heisley Road to Tyler Blvd and continue to Lakeland Community College and Great Lakes Mall.
Route 8 will travel hourly Monday-Saturday. Route 9 will travel hourly Monday- Friday during peak hours. The route provides half-hour peak service to Tyler Blvd during rush hour to improve job access to the industrial boulevard.
Review Map of Proposed Bus Stop Locations along the route by clicking here.  Click on orange or green line on map and bus stops will appear.
Any questions, feedback or additional information can be sent to contact: Julia Schick at (440) 350-1012 or jschick@laketran.com.
---
The Public Comment period for Route 8 closed on Wednesday, March 25, 2020. Please check back regularly for any updates regarding Route 8.
We appreciate the feedback provided to us by community members. We look forward to launching the new Route 8 that will serve Diamond Centre, Tyler Blvd, Mentor High School, Mentor-on-the-Lake and Mentor Headlands, later this year.
For questions or additional information, please contact: Julia Schick at (440) 350-1012 or jschick@laketran.com.