Deadline extended to Friday, January 15, 2021 at 4:30 p.m.
---
All contestants must submit a completed Entry Form. Download Here.
Download the design template here.
---
CONTEST DETAILS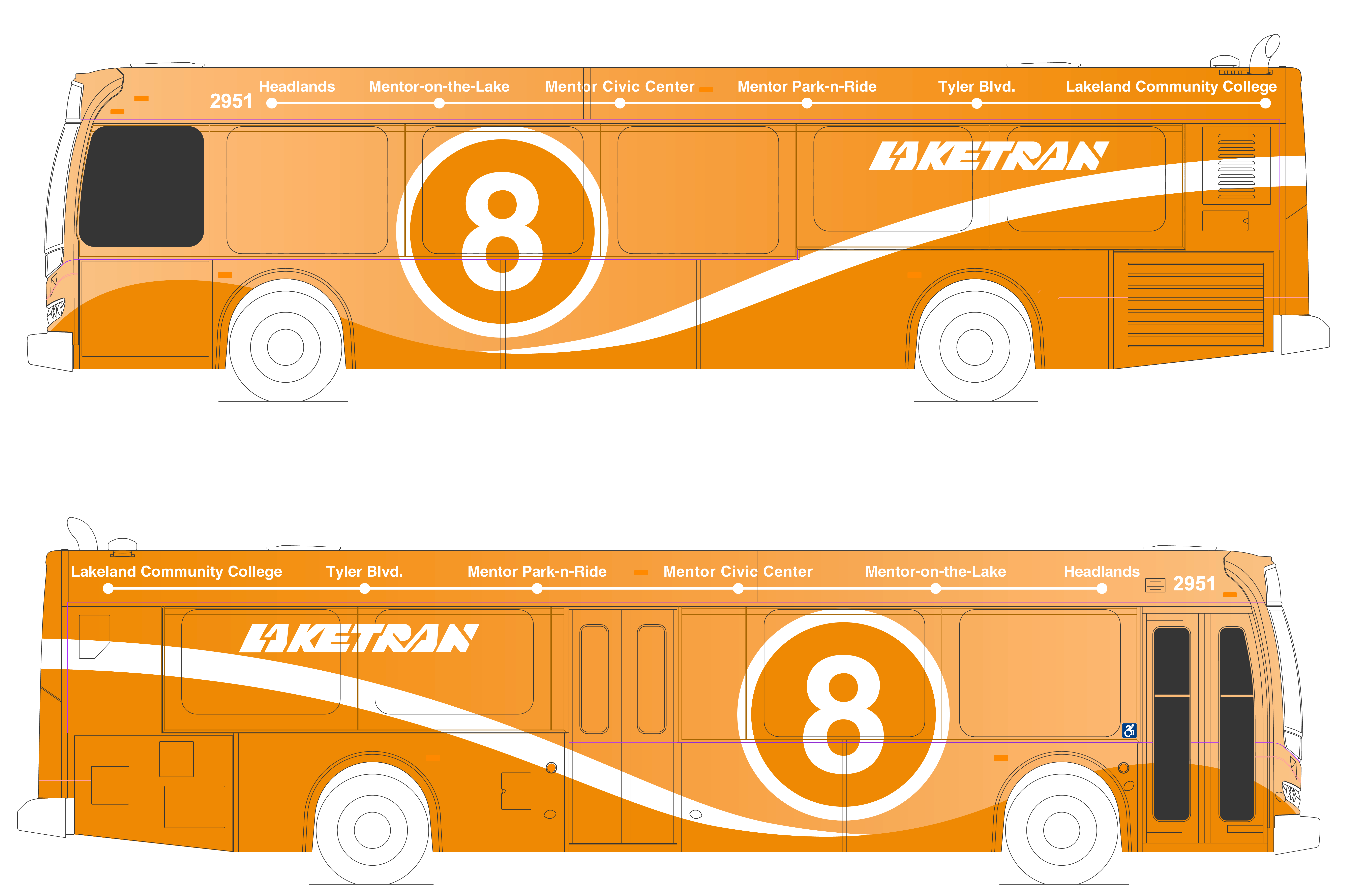 WHO CAN ENTER THE CONTEST?
The contest is open to middle school, high school and college students from Lake County or students who are enrolled in a Lake County school, art school or homeschooled during the 2020-2021 school year. Submissions must be made by individual students, not classes or other groups of students.
WHAT DO I HAVE TO DESIGN?
Participants will design a bus wrap (an advertisement that covers the entire vehicle) promoting theme "Lake County Pride."  Your design can feature a short, one sentence slogan that either (a) promotes public transit and/or Lake County (b) points out one or more of the features of Laketran and/or Lake County.
WHEN IS THE DEADLINE?
Entry Forms and artwork must be received by 4:30 p.m. on January 15, 2021. Entries may be mailed or dropped off at Laketran, Attn: Julia Schick, Laketran, 555 Lakeshore Blvd. Painesville Twp., OH 44077 or to jschick@laketran.com.
HOW WILL ALL THE ENTRIES BE JUDGED?
A panel consisting of transit employees, graphic design/art professionals, and community members will judge entries. When evaluating entries, judges will consider the following criteria:
Does the design promote public transit and/or Lake County?
Is the design eye catching?
Is the overall composition balance and unified?
If included, is the slogan short and memorable, and is the text legible?
ARE THERE ANY PRIZES?
The winners will be announced in January 2021. The design that wins first place will be used to wrap a Laketran bus, which will be unveiled in February 2021. The wrap will remain on the vehicle for six months. First place winner receives an Apple iPad, second place Powerbeats earbuds and third place $100 Best Buy gift card.
---
Technical requirements for producing your design
FOR DESIGNS DRAWN BY HAND (PAINTINGS OR COLOR DRAWINGS)
Please download this template.
Use white paper or poster board with a smooth finish. Artwork on textured paper will not reproduce accurately when the design is transferred to the vinyl wrapping material.
If you make a drawing, use markers or color pencils.
PHOTOGRAPHY
Photographs must be in digital format.
All digital files must be at least 10MB in JPEG or TIFF format. The photo should be taken at the highest resolution possible with a resolution of at least 300 dpi.
Do not distort the image by applying photo filters or effects.
Photos that contain sexually explicit, obscene, violent or other objectionable or inappropriate content, as determined by Laketran in its sole discretion, are ineligible for all categories of this contest.
Photos that violate or infringe upon another person's rights, including but not limited to copyright, are not eligible.
You must own the rights to, have permission, or have purchased any photos included in the design.
FOR DESIGNS MADE ON A COMPUTER
Use Adobe Illustrator or CorelDraw. Do not use Adobe Photoshop.
Files made on either PC or MAC platforms are acceptable.
Please use the suggested template.
Save your files to thumb drive and include the following:

If using Adobe Illustrator, save as an AI or EPS file. If using CorelDraw, save as a CDR file.
ALL fonts in your design need to be converted to "outlines".
In Adobe Illustrator, select all your fonts, go to: Type > Create Outlines.

Include a printed copy too.
Electronic submissions can be submitted via email to jschick@laketran.com.
SUGGESTIONS FOR A WINNING DESIGN
A design with large elements will look better than a design with a lot of small, complicated elements.
Bright, bold colors will look better than soft, pastel colors.
Keep your text fairly large. Remember, people will be trying to read your slogan as the vehicle is moving.
Please do not sign your artwork. We will put the winning artist's name on the side of the vehicles.
Do not use any copyrighted material (example: Mickey Mouse, Superman, etc.)
Please submit a hard copy no matter which design you choose.
---
Background information for the development of a concept or slogan for your design
Laketran is the regional public transit agency for Lake County and our mission is to provide quality public transportation services to the residents of Lake County.
Some of Laketran's services include:
Local Route Bus: Traditional transit buses that travel along the major roadways in Lake County stopping every quarter-mile at bus stops along the route.
Park-n-Ride: Weekday commuter service connecting Lake County and Downtown Cleveland. These buses serve employees getting to work and Cleveland-based college students.
Dial-a-Ride: Door-to-door, assisted public transportation service for people with disabilities and seniors.
Campus Loop: Campus shuttle that serves Lakeland Community College campus.
LAKETRAN FACTS
With 139 buses and 245 employees, Laketran operates 9 local routes, 4 Park-n-Routes to Cleveland, and Dial-a-Ride service throughout the county. Chances are anywhere you want to go, you can take Laketran!
Take your bike on Laketran using our on-board bike racks. Biking is a great form of exercise and helps reduce traffic congestion and air.
Laketran is a leader in alternative fueled buses. Laketran operates propane fueled buses and will have the first battery-operated electric buses in the entire state of Ohio join its fleet in summer 2021.
All Laketran vehicles are 100% accessible. That means anyone using a mobility device, electric scooter, walker, cane can board our buses.
BENEFITS OF TAKING LAKETRAN
Independence! No more waiting for rides or borrowing a car. Go where you want, when you.
Save money! Laketran bus fare to get where you need to go is less than a gallon of gas for most high school and college students.
Texting and riding is always safer than texting and driving, plus we have plenty of seats for your friends.
One full bus can take 40 cars off the road meaning less traffic congestion and less air.
LAKE COUNTY FACTS
Lake County is the smallest county geographically, but 11th in population.
Lake County has 33 miles of lakefront along the Lake Erie shore and is known for walleye fishing.
The home of James A. Garfield, the 20th US President, is a National Historic Site located in Lake County.
Lake County is known for our parks like Holden Arboretum, wineries, beaches, and Lake County Captains.
Lake County is full of history with many revitalized downtown districts in Willoughby, Painesville, and Madison.
---
Thank you to our contest sponsors:
| | | | |
| --- | --- | --- | --- |
| | | | |
---
Questions?
Contact Julia Schick at 440-350-1012 or jschick@laketran.com. For information about transit or for help planning a trip, call 440-354-6100 or visit https://laketran.com/riding-laketran.