On Tuesday, June 6, 2023 at 4:00 pm, Laketran staff surprised Tammy Brooks, a Laketran Dial-a-Ride rider, as the 25 millionth rider in the history of Laketran. Brooks was picked up from Papillion Enrichment Center, where she works in Willoughby Hills and was escorted home by driver Lynn Fatica along with Laketran CEO Ben Capelle onboard.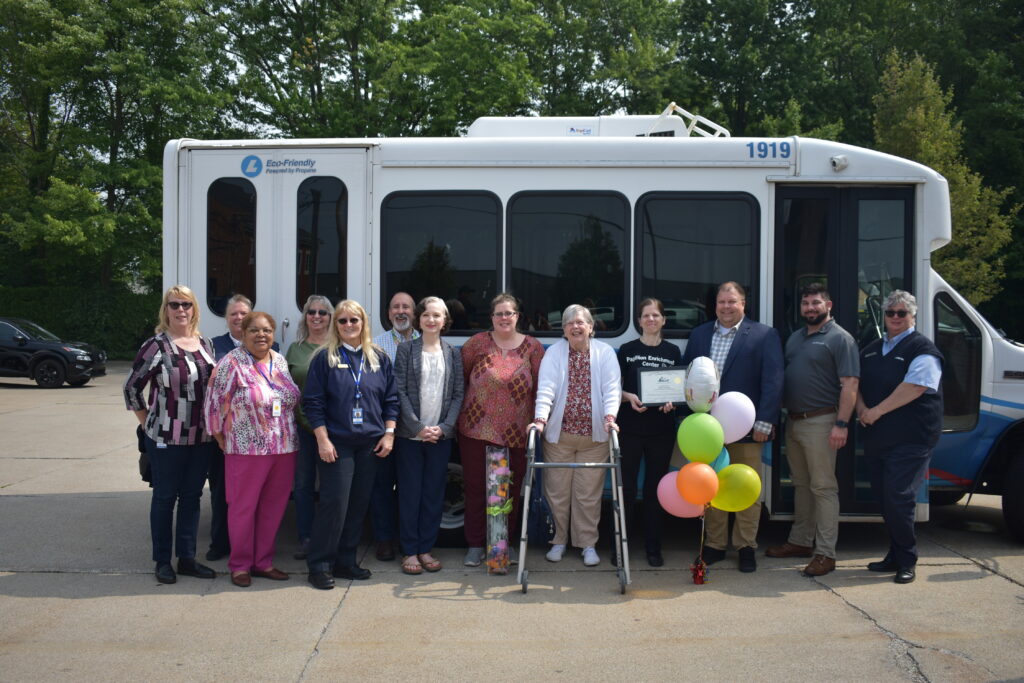 Tammy is from Willoughby Hills and moved to Lake County in 2001 so that she could have access to Laketran due to a visual impairment that does not allow her to drive. She has been riding Laketran for the last 22 years to get to and from work.
"I am so excited and honored to be recognized as Laketran's 25th millionth rider," shared Brooks. "Having access to Laketran impacts my ability to work, helps out my family, and is truly a lifeline for me to be independent and I'm so happy to be able to rely on this service."
Tammy uses Laketran's Dial-a-Ride service that provides door-to-door, assisted transportation throughout Lake County and to some Cuyahoga County medical facilities. Lake County seniors and people with disabilities primarily use the service to get to work, senior centers, dialysis and other medical appointments.
"We are grateful to serve riders like Tammy who rely on Laketran to get them to and from the important events and activities in their lives. We are also thankful to be able play a big part in her everyday life, and that we can be her solution to maintaining independence," expressed Laketran CEO Ben Capelle.
In 2022, Laketran served nearly 550,000 riders and its Dial-a-Ride ridership saw an 18% increase over 2021 ridership.
Laketran trustee and former Willoughby Hills council member, Laura Pizmoht presented a commendation on behalf of the Lake County Commissioners stating, "It is an honor to present this recognition on behalf of Lake County to our 25 millionth passenger, because it is such an incredible milestone for Laketran."
Previous agency milestone riders include: Irene Dailyda, the one millionth passenger, in 1992; Anna Lusin, Laketran's fifth millionth passenger, in 1997; Linda Rollins, Laketran's ten millionth passenger, in 2003; the one millionth Park-n-Ride passenger, Sean Conway, in 2005; and Ona Ladabie, Laketran's twenty millionth rider in 2015.
The agency's next major milestone will be celebrating its 50th Anniversary in 2024.