Lake County, OH – Laketran continues to get innovative when it comes to cutting costs and growing revenue.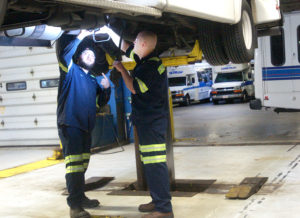 After difficulty finding vendors to complete alignments on their 35 foot transit buses and 40 foot commuter coaches, Laketran has decided to bring the services in-house.
"Our local vendor here in Lake County told us they did not want to continue to perform the service," explained Laketran's director of maintenance Keith Bare in a Monday night presentation to the Laketran board of trustees. "We're currently driving our buses to the west side of Cleveland, but the travel time is cost prohibitive."
Bare suggested Laketran bring alignment service in-house with potential to sell the services through governmental agency contracts.
"We believe there are other governmental agencies, like the county or local school districts, that may be having the same difficulties," shared Laketran general manager Ben Capelle. "Once our maintenance department is trained and we have a general idea of how much time the alignment will take, we plan to offer alignment services to governmental agencies within Lake County."
"The alignment machine will pay for itself in just four years, but selling alignment service to other government agencies that operate heavy-duty vehicles could at some point generate revenue for the agency," continued Capelle.
Laketran's board approved the purchase of the American-made Hunter Engineering three axel alignment machine from New York-based, Mohawk Resources, LTD at a state contract pricing of $43,510.75.
New technology from Hunter Engineering provides three-axle wheel alignments with software that supports specialized truck, trailer, and bus alignments to meet the needs of Laketran's diversified bus fleet and ability to service other customized government vehicles.
"There's always discussion of regionalism and government agencies working together to lower cost," said Brian Falkowski president of Laketran board. "Here we are in a situation where we need to make a large purchase to maintain the safety of our fleet and if other governmental agencies can benefit from its use and save tax dollars, we find that to be good investment for the region."
Laketran aims to pilot the sale of alignment service by end of 2018.