The Ohio Public Transportation Association (OPTA) presented the 2023 Excellence Awards at its recent annual conference. The Excellence Awards honor individuals and organizations who have exemplified leadership and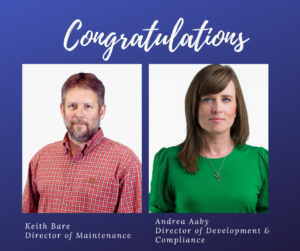 advocacy for public transit in Ohio.
This year OPTA recognized two of Laketran's top officials for their accomplishments and service to Lake County's transit system.
Director of Maintenance, Keith Bare, received a Milestone Award for 31 years of public service to Laketran.
"Keith is known as the "go to guy" among transit maintenance directors throughout the state having managed fleets fueled by CNG, propane, diesel, gasoline, and most recently Ohio's first battery-operated electric buses," shared Laketran CEO Ben Capelle. "He is most deserving of this award and reason why thousands of riders can rely on us every day."
Bare manages a fleet of 148 buses that travel over 4.2 million miles annually. His team of 25 mechanics and vehicle servicers oversees 5,000 preventative maintenance repairs each year. Laketran's Maintenance Department had also won multiple national awards from the National Fleet Management Association for its commitment to being progressive and environmentally-friendly by operating a waste oil heating system and other recycling efforts.
Andrea Aaby, Laketran's Director of Development and Compliance, was honored by OPTA as the state's Under Forty Rising Star. Aaby manages the agency's state and federal grants, capital planning and recent construction projects including the construction of the Frank J. Polivka Transit Center, Wickliffe Park-n-Ride transit center, and the current Headquarters Renovation and Expansion project. Over the past five years with Laketran, Aaby has secured nearly $100 million in federal and state grants for buses, technology enhancements, and passenger amenities.
"Andrea's advocacy for public transit and passion to bring the best transit services to our residents is evident in her work and I'm proud to see her recognized at this level," shared Capelle. "Now, we just need to continue to make Lake County a great place to live and work, so we can keep talented individuals like Andrea here in Lake County."