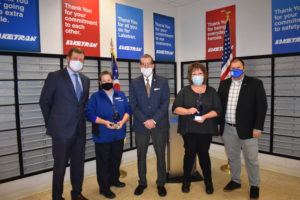 Laketran employees Cheryl Brady and Jodi Zilke were recently recognized by the Ohio Public Transit Association (OPTA) each receiving their Milestone Award for 30 years of public transit service.
The award honors individuals who have exemplified leadership and advocacy for public transit in Ohio.
Bus Driver Cheryl Brady, of Willoughby, and Lead Dispatcher Jodi Zilke, of Madison, both began their careers in 1990 when Laketran operated out of a small office in Grand River and only had three local routes and a two commuter routes to Cleveland, alongside its signature Dial-a-Ride service.
"They have really seen Laketran grow over the years and expand into a nationally recognized service within the public transportation industry," explained Laketran CEO Ben Capelle.
"We are very proud of Cheryl and Jodi for being selected as recipients of the OPTA's Excellence Award for 2020," continued Capelle. "It's impossible to calculate exact numbers, but Cheryl has provided close to 500,000 rides over her career and Jodi has scheduled many more. They've helped a lot of people get where they need to go and we're grateful for their service to Laketran and the residents of Lake County."
OPTA Executive Director, Matt Carle, along with Senator John Eklund and State Representative John Rogers, presented Brady and Zilke their awards in a small employee recognition at the Laketran Headquarters.