Frank J. Polivka Transit Center at Lakeland Community College opens March 15 creating a central hub for Laketran, improving access to high education and training, while preparing for the arrival of Ohio's first battery-operated electric bus fleet.
Lake County, OH – Laketran is pleased to announce the opening of the Frank J. Polivka Transit Center at Lakeland Community College.  The transit center will open to the public on Monday, March 15 and serve as a central transfer point for six Local Routes, Park-n-Ride service to Cleveland, and Campus Loop shuttle service.
The new building adjacent to State Route 306 will provide an indoor waiting area, accessible real-time information, public restrooms, Wi-Fi, and charging infrastructure for the agency's battery-operated electric bus fleet arriving later this year.
Local Routes 1, 2, 3, 6, 8, and 9 and Park-n-Ride Route 11 will operate from the south side of the building. Campus Loop service will operate from the north side of the building with service every 10 minutes for easy access to all parts of campus, including the Holden University Center.

"When the college approached us about the idea of a transit center on the property, it was a win-win for both organizations. The new transit center will alleviate bus traffic on campus making it more pedestrian friendly and improves waiting environment for our riders—many of whom are students coming to Lakeland," explained Laketran CEO Ben Capelle. "Plus, we were looking for a place on campus to install charging stations for our electric buses arriving this summer."
The transit center name honors Frank J. Polivka, Laketran's first employee who served as the agency's general manager from 1979 to 2003. Polivka continued his career at Greater Cleveland RTA until 2019 as Director of Procurement, resides in Madison, and currently serves as a Trustee for Lake Metroparks.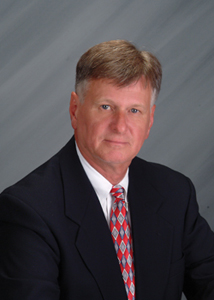 "Frank's vision for Laketran set the groundwork for us to become a reputable, customer-driven transit agency nationally recognized for innovation and our Dial-a-Ride service," shared Capelle. "He has left a lasting impact on our community, as well as the transit industry, and it is an honor to name this transit center after him."
"I remember the early years of Laketran and having to convince the Lake County community there is a need for public transit service," shared Polivka about starting the agency. "It's humbling to see what this agency has become to the community almost 50 years later and to be recognized in this way."
Laketran anticipates the transit center will serve 65,000 commuters annually between the local fixed route, Park-n-Ride and Campus Loop services. In 2019, Laketran provided over 30,000 trips to Lakeland Community College students alone using the local route service.
"Transportation is a challenge for many of our students. Having this Laketran transit center on Lakeland's campus will eliminate that barrier so more students can attend classes," shared Dr. Morris W. Beverage Jr. president of Lakeland Community College.
Lakeland Community College donated the land for the new transit center to Laketran and the building cost was $2.5 million.
"We are grateful for the partnership with Lakeland Community College throughout the design and construction of the new transit center," shared Brian Falkowski, Laketran's Board President. "We're excited to bring the transit industry's latest technology to Lake County residents with on-route electric bus charging and real-time digital signage."
Funding for the 2,200 square foot transit center was leveraged by a mix of federal and state capital transit grants including NOACA's Transportation for Livable Communities Initiative implementation grant and a $1.5 million grant received by Ohio Department of Transportation's Ohio Transit Partnership Program. Laketran will provide $219,426 in local matching funds.