Laketran is proud to announce the winners of their 2023 Design a Bus Wrap art contest.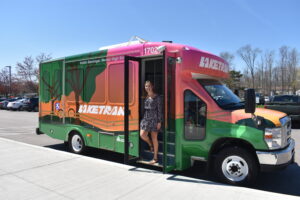 Kaitlin Barninger, a senior at Mentor High School, won first prize for her design entry themed, "Live Green, Live in Lake County."
As the top winner, Barninger's design will be displayed on one of Laketran's propane powered Dial-a-Ride buses for one year.
"When this contest first came out, I was interested in coming up with a design to enter. Later, I was even more excited when I found out that in my Digital Arts class at school we would be creating designs to enter into the contest," shared Barninger. "I have always loved sunsets, so I knew I wanted to include that in my design. Sunsets are always better at the beach which is why I chose to use to include the lighthouse and Lake Erie. Also, I have enjoyed the many parks and bike paths in Lake County so, that is why I wanted to include it into my design. This contest is a great opportunity and I am happy that I entered it!"
In its third year, Laketran had a 147 local high school and middle school students submit entries for the contest, nearly doubling the participation from last year.
Laketran CEO Ben Capelle stated, "We continued to be impressed with the artistic talent of our youth here in Lake County and were very excited to have received more than double the amount of entries we did last year. It's a great opportunity for students to showcase their abilities while tying in the importance of public transit and its impact on the environment and region."
The contest was open to middle school and high school from Lake County or students enrolled in a Lake County school or homeschooled during the 2022-2023 school year. Area students were encouraged to design a bus wrap displaying the theme "Building a Greener Lake County."
A panel consisting of transit employees, graphic art professionals, and community leaders served as judges for the contest.
Avery Dennison, a Lake County-based manufacturer and distributor of pressure-sensitive adhesive materials, sponsored the contest and donated the vinyl material used to wrap the vehicle.
"Avery Dennison is pleased to sponsor this program for the third year in a row in support of Laketran and the Lake County community," said Amanda Stefanik, senior marketing communications specialist, Avery Dennison Graphics Solutions.
"Our Avery Dennison team enjoys being involved in such a rewarding project where we can connect with our local area leaders, schools and students. We also appreciate the opportunity to increase awareness of the creative possibilities of vinyl graphics among art students, arts programs and art instructors. As Kaitlin Barninger, a senior at Mentor High School, illustrates with this year's wrapped bus, graphic vinyl film can be a powerful, creative canvas that is visually engaging, both commercially and artistically," Stefanik said.
Contest winners include:
1st Place – Kaitlin Barninger, Mentor High School
2nd Place – Drake Girard, Mentor High School
3rd Place – Ladi Cassidy, Mentor High School
3rd Place – Jovana Gordillo, Heritage Middle School
Winning designs can be viewed online at https://laketran.com/laketran-2023-art-contest-winners-announced/.
Laketran has the top 20 entries on display at Laketran's Frank J. Polivka Transit Center at Lakeland Community College.
Event photos: https://drive.google.com/drive/folders/1-LVEzYyJLM_OE2FRP9HRKjx58NlISJRN?usp=share_link