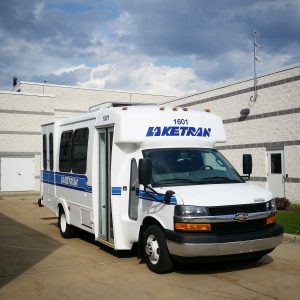 Now, in the ever-evolving spirit of upgraded technology, Lake County's transit agency is launching an extension of the vastly popular service with its Request-a-Ride online reservation program feature.
Request-a-Ride aims to decrease call volume and waiting time on the phone, as it enhances customer service and expedites transportation planning with the ease of clicking a mouse. While the agency will continue to brand the service as Dial-a-Ride, phone reservations are no longer exclusively necessary. Request-a-Ride customers also can confirm or cancel reservations at www.laketran.com.
"Today, seniors are comfortable online and adaptive technology makes booking a reservation online much easier than making a phone call for some individuals with disabilities," said Julia Schick, Laketran's director of communications and marketing. "Plus, plans change and it's simply easier to have unlimited access to schedule your own transportation."
According to a Laketran news release, often the person booking the trip is a caregiver or community agency, not the person actually taking the trip. Request-a-Ride provides both caregivers and riders access to trip information at any time, making it easier to manage transportation needs and verify accuracy of trip details at their own convenience.
With Lake County's senior population growing, so has the demand for Dial-a-Ride service. In 2015, Laketran's customer service center answered 160,000 phone calls that provided over 275,000 Dial-a-Ride trips, the release stated.
Laketran Board President Brian Falkowski said the transit agency is very excited about offering the ability to make Dial-a-Ride reservations online.
"This year, we've been focused on how we can use technology to make riding transit easier for our riders and to attract new riders," he said. "Earlier this year, we launched real-time arrival for route buses and now we're excited to have online reservations for our Dial-a-Ride customers, giving them better access to manage their trips. This new way of scheduling Dial-a-Ride trips will make for a better customer experience while also streamlining our internal operations."
Customers who prefer booking reservations by phone will be able to continue to do so by calling Laketran customer service. To begin with Request-a-Ride, riders must call customer Service at 440-354-6100 to receive a client ID login and additional instructions.
The new service is not yet available on mobile devices, though the agency is working toward making that additional element a reality.
Laketran has been working on developing and implementing the online reservation program for a while, said Deputy General Manager Ben Capelle.
"Our customer service operations are only open for certain hours, but with Request-a-Ride you can go online at any time of the day and submit trip information. It's easier for some people. There is no wait. We've worked with various agencies as test candidates in experimental stages. This feature is just another tool to increase our service to our riders."
Agreeing with Capelle is Kirtland resident Kim Stenger, a legal researcher with the Lake County Prosecutor's Office in Painesville, who said for individuals "constantly scheduling rides," the new tool definitely provides flexibility and independence, particularly for riders with disabilities.
"We have busy lives too and Request-a-Ride opens up a lot of doors," she said. "I've been wanting them to do this for a long time. I use the service three days a week minimum for work and socially. It's also nice to see your reservation times in front of you on the computer, especially when you have several rides. It's nice and convenient.
"I'm a big advocate for the new Request-a-Ride and of Laketran," she said. "It's been awesome and I'm extremely happy with it."