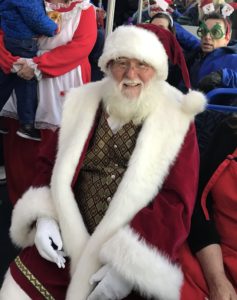 Mentor,  OH – Santa continued his track record of using alternative transportation by making his grand arrival at Great Lakes Mall on a Laketran bus.
Santa was met by a crowd of over 400 anticipating families as he made his debut for the holiday season on Saturday, November 11, 2017. Families enjoyed arts & crafts, games, and entertainment before Santa arrived on a Laketran bus decorated for the occasion.
Santa and his Laketran elves spread good cheer entering the mall singing Christmas carols and giving out Laketran bus banks.
"The Great Lakes Mall Transfer Center is one of Laketran's busiest stops bringing thousands of employees and customers to Great Lake Mall each year and we're happy that Santa is choosing public transportation," shared Laketran spokesperson Julia Schick.
Laketran also kicked off their Holiday Hours this week. To encourage residents to shop locally, Laketran operates extended holiday hours now through Saturday, December 30, 2017.  During Holiday Hours, Laketran operates weekdays from 6 a.m. to 10 p.m. and Saturdays 8 a.m. to 9 p.m.
"The extended hours provide additional transit service so employees can work later when retail outlets expand their hours for the holiday season and encourage residents to shop locally," shared Schick.