OHIO LOVES TRANIST WEEK – Transit is Essential | We Move People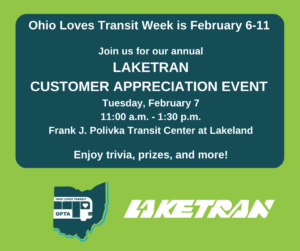 Every segment of Ohio – businesses, communities, individuals and families – benefit from public transportation, an essential service that enhances economic development, insures sustainable lifestyles and a higher quality of life.
In Lake County, Laketran provides over 500,000 trips each year, helping to create and maintain jobs that are essential in keeping our communities strong. Whether getting people to work or providing a ride to get a medical appointment, Laketran is a lifeline for our community.
From February 6 through 11, Laketran will celebrate with elected officials and stakeholders as well as our communities and riders during the sixth annual Ohio Loves Transit Week, peaking on Ohio Loves Transit Day, Tuesday, February 7, 2023.
Laketran will be celebrating this week with a Customer Appreciation Event on Tuesday, February 7 from 11:00 a.m.-1:30 p.m. at Laketran's Frank J. Polivka Transit Center, as well as surprising customers along their route throughout the week.
Laketran CEO Ben Capelle will spend the day with state officials discussing the State FY 2024-2025 budget proposal that includes the state transportation budget.
"ODOT funding is crucial to Laketran," shared Capelle. "Over the past five years, Laketran has received over $9 million from competitive ODOT grants to pursue capital improvement projects such as construction of two new indoor transit centers and electric bus charging infrastructure that allows Laketran to electrify 67% of our fixed routes system. With this infrastructure, Laketran saves on fuel costs and preventative maintenance expenses, while reducing noise and air pollution."
Just as critical, state funding subsidizes Laketran's reduced fare program for seniors and people with disabilities allowing Laketran to maintain affordable Dial-a-Ride fares.
"We're happy the state continues to invest more in public transit for those we serve and our communities," stated Capelle. "The Governor's budget proposal shares a positive message, which is that Ohio should continue to invest more in public transportation."
Laketran's message to lawmakers for Ohio Loves Transit Week includes:
We are a vital link for people with disabilities, providing rides to work, job-training programs, medical appointments and adult daycare facilities.
Laketran supports local businesses keeping up with workforce needs to get workers to jobs and students to career development and higher education opportunities.
Our agency works to ensure all citizens have access to the transportation services they need to remain an active part of the community, specifically combating senior isolation among Ohio's growing senior population.
Investment in public transit is critical to link Ohioans to mental health services and supports the success of affordable housing.
"These are just a few of the reasons why Ohio's lawmakers need to stay committed to supporting public transit throughout the budget process," expressed Capelle.
​"Laketran's ridership has recovered much quicker than many transit systems around the country, which means our customers are truly dependent on our services to get to work, medical appointments, or wherever they need to go," shared Laketran Board President Brian Falkowski.
"I hope this week unifies a voice across the state that transit is important to daily lives in all parts of Ohio, both rural and urban neighborhoods. When you support public transit, you are helping someone get to work or possibly a veteran that needs to travel to a neighboring county to get services. Every trip is meaningful and important."
###
Ohio Loves Transit Week is hosted by our partner, the Ohio Public Transit Association (OPTA).
OPTA is the primary advocate for public transportation in Ohio. Now over 500 members strong from 67 transit agencies across the state, the association provides leadership, resources, training, support, technical assistance, media outreach, public engagement, and governmental relations services to public and private transit agencies.