The American Public Transportation Association recognized Laketran for a marketing campaign that grew Park-n-Ride ridership 8 percent in 2016.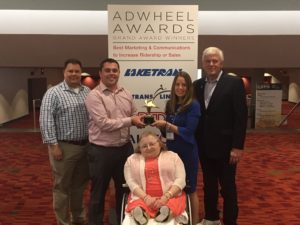 Laketran was among the American Public Transportation Association (APTA) winners announced during the transit industry's annual AdWheels Awards at the APTA Annual meeting earlier this month. The awards recognize APTA's public transportation system and business members for their outstanding marketing and communications.
Laketran's "Adventures in Commuting" campaign that grew Park-n-Ride ridership 8 percent in 2016 won a Grand Award, the top industry award for campaigns to increase ridership or sales among APTA's 1,500 transit and business members.
In 2016, Laketran launched "Adventures in Commuting" to gain awareness and grow ridership of Laketran's commuter, Park-n-Ride service to Cleveland.
The marketing efforts promoted many new upgrades to Laketran's Park-n-Ride service including Bus on Shoulder and Guaranteed Ride Home programs, new routes alignments with express runs from Cleveland, real-time arrival, new signage and a new fleet of buses.
Julia Schick, Laketran's director of communications, explained that the creative campaign encouraged car drivers to leave the adventures of driving to Laketran. Focusing on challenges that are unavoidable to car drivers like car accidents, snow and construction and explaining how the Bus on Shoulder program keeps riders moving when traffic is stopped, getting them to work on time.
"We have a very creative and hardworking communications team here at Laketran," shared general manager Ben Capelle, "They are always focused on the end result – whether it's increasing ridership, helping residents learn about our services, or improving the awareness of what we do for Lake County."
APTA received 350 Adwheel entries, naming 59 first place awards, and then 11 Grand Award winners who represent the very best entries.
"It's always great when you can put a spotlight on Lake County in front of a national audience. We are very proud to receive recognition for our marketing efforts alongside transit systems from Vancouver and Denver," explained board president Brian Falkowski. "The campaign hit the goals to improve public awareness and in the end we have less people driving, improving our regional air quality and highway congestion, all while using our Park-n-Ride services."
PHOTO L-R: General Manager Ben Capelle, Board President Brian Falkowski, Trustee Donna McNamee, Director of Communications Julia Schick, Trustee Chuck Zibbel