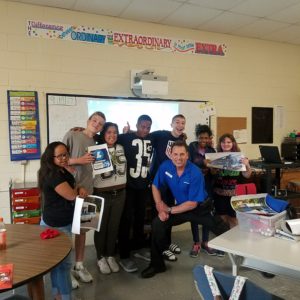 Meet Ben Mordush, Laketran's Customer Outreach Specialist. Ben was previously a Dial-a-Ride driver before switching to his new role in August – so you may have seen him on-board!
As the Customer Outreach Specialist, Ben manages Laketran's Travel Training, Seniors on the Go programs and ADA eligibility process.
Ben meets with individuals and groups across Lake County to teach them about Laketran services and how to start riding the bus. After an in-person meeting,  Ben accompanies new riders to make sure they comfortable and safely riding Laketran.
Group Travel Training is also available for schools. Ben works closely with schools in Lake County teaching students how to use public transportation.  Many middle school and high school teachers have Laketran visit their classroom each year to set their students up for success on Laketran. Transition students and students with IEPs are eligible to receive a reduced fare when riding Laketran.
Ben also represents Laketran at many different community events. You can often find us at resource fairs, senior events, festivals, and family events. Next time you see him at the Laketran table, stop by and say hello. Stay connected with us on Facebook and Twitter to find us in the community.
Travel Training is a free service offered by Laketran and is open to all ages. Call Ben at 440-350-1067 or email bmordush@laketran.com for more information.