Middle school and high school students from Lake County are eligible to enter by submitting original artwork with a positive, environmentally friendly message. Participants are encouraged to create a design using the contest theme "Building a Greener Lake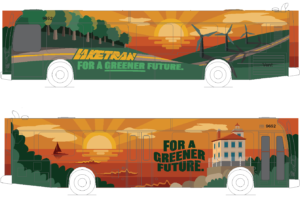 County" to promote public transit or ways to be environmentally responsible and care for Lake County's outdoors.
One student's winning design will be featured on a Dial-a-Ride bus wrap for six months and travel throughout the county. Entries are due Monday, January 31, 2022 and the bus wrap will be installed from March – July 2022.
The contest is open to middle school and high school students from Lake County or students enrolled in a Lake County school, art school or homeschooled during the 2021-2022 school year.
Learn more about the contest and prizes on the Laketran website, where you can also download the entry form and art templates.
"We received over 75 entries last year and are excited to be able to offer this contest to our young Lake County artists again this year," shared Laketran spokesperson Julia Schick. "Many transit systems incorporate public art into their transit properties or vehicles, because it's a great way to share art in the community."
The 2021 art contest winners, along with 18 additional entries, are on display at the Frank J. Polivka transit center at Lakeland Community College that is open to the public Monday – Saturday.