Lake County, OH – Officials from Laketran, the regional public transportation system in Lake County, Ohio, Lakeland Community College, elected officials, and community representatives gathered on September 6 outside the Lakeland Community College's new Health Technologies Building to commemorate Laketran's Campus Loop service, the first transit service expansion for Laketran in nearly 15 years.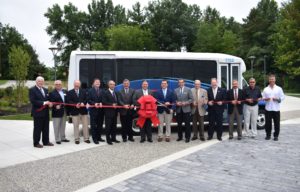 Laketran's new Route 7, Campus Loop, is an addition to Laketran's six current Local Routes.
The new Campus Loop service has eight bus stops operating on 10 minute headways to connect all points on campus, including Lakeland Community College's Holden University Center.
Laketran CEO, Ben Capelle, shared his vision of the service from his experience of being a student bus operator while attending The Ohio State University, "I started my transit career as a bus driver on a college campus, so being here today is a little nostalgic for me. I am very proud to be launching Campus Loop, bringing that same service here, to Lakeland Community College. I thought driving a bus was just going to be a campus job, until I started to see first handed, the imperative role transit plays in community development – by providing access, improving safety, and creating a sense of community.  Campus Loop will bring all of these benefits to Lakeland's campus. Partnerships like Campus Loop are my vision for Laketran and they really just make sense for our community."
While improving access and safety on campus is the priority of Campus Loop, the event also highlighted additional benefits including the efficiencies of Laketran providing the service on campus.
"We are glad to be able save tax payers dollars by providing service more efficiently here on campus," expressed Capelle. "Lakeland was offering a shuttle service on-campus operated in-house, but Laketran was able to provide the service more efficiently for them. One way Laketran helps reduce costs is our ability to leverage federal funding that pay for eighty percent of the cost of buses and their maintenance."
"Lakeland operating shuttle busses would be like Laketran trying to operate a nursing program," said Lakeland President Dr. Morris Beverage Jr. "By sticking to each of our strengths, we are able to provide students with the best service possible."
Laketran board president, Brian Falkowski listed many of the longstanding partnerships between the two agencies including a student transit benefit program and operating a Park-n-Ride service to Cleveland from campus.
"Together we work to provide free access to our Local Routes services, so students never have to choose between affording transportation and their college tuition," explained Falkowski. "As Lakeland Community College continues to grow adding new programs, like the Holden University Center, it was only natural that we work together to improve the safety and transportation connections here on campus."
The partnership with Laketran is one way that Lakeland Community College is responding to the Governor's Task Force on Affordability and Efficiency, which requires state institutions of higher education to look for ways to continue offering a high-quality education while decreasing costs.
The Campus Loop officially launched at the start of Lakeland Community College's fall semester on August 27