A group of Northeast Ohio lawmakers and community leaders joined Lakeland Community College and Laketran officials Sept. 6 for a presentation officially launching the county transit system's first new route in 15 years.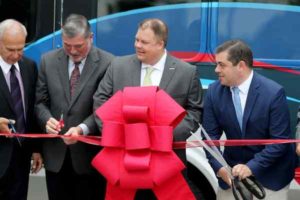 Route 7, dubbed the Campus Loop, is the latest collaboration between Lakeland and Laketran and is intended to make commuting a safer proposition between Lakeland's main campus, 7700 Clocktower Drive in Kirtland, and the Holden University Center across state Route 306, according to Laketran Board President Brian Falkowski.
"Laketran and Lakeland Community College have a long history of partnering together to serve the Lake County community," Falkowski said at the start of the roughly half-hour presentation in front of Lakeland's new Health Technologies Building. "As Lakeland Community College continues to grow, adding new programs like the Holden University Center, it was only natural that we work together to improve the safety and transportation connections here on campus."
While the college has operated its own shuttle service for years, Lakeland President Morris W. Beverage, Jr. on Sept. 6 said it was time to leave the driving to Laketran.
"We've been working together with Laketran for many years — to help our community with the Park-n-Ride, to help our students with bus transportation to campus," Beverage said. "This is just a natural, I think, extension of that effort to utilize… the public resources that we already have available to us, rather than us trying to do something that is not really in our wheelhouse."
He added: "Us running a shuttle service, as we have for many years, is akin to Laketran starting a nursing program."
Both Beverage and Falkowski also took the opportunity at the event to share news about another collaboration the pair is eyeing in the near future: a multi-modal transfer center on campus.
That project, for which both entities have obtained federal funding, according to a July Laketran news release, will aim "to improve accessibility and safety for Laketran's route and shuttle buses, automobile pick-up and drop-off, as well as bike and pedestrian traffic."
Beverage elaborated on Sept. 6.
"We do have in our plans another major extension of (the Laketran/Lakeland) partnership down the road," he said. "We would like to work with Laketran in building a transfer center for their buses that would also improve access to the college for many of our students. We just think that's a natural transition into the future for us, as well."
Laketran CEO Ben Capelle agreed the two organizations have enjoyed a positive, productive partnership over the years.
"This really is a great partnership for Laketran and Lakeland," Capelle said. "We've been operating buses here for a long time. They're a critical part of our route structure and, when we sat down to talk about how we could work (more) together, we… talked about the shuttle program and asked: 'Is that an area that Lakeland and Laketran could work together (to make) even better?"
He added that, in seeing it through to completion, the college personnel involved with its implementation were essential, helpful and it couldn't have been done without them.
In attendance for the presentation Sept. 6 were a number of state and area elected officials.
Bus stops on the loop are at:
• Clocktower
• West Lot A
• Holden University Center
• West Lot B
• North Lot A
• North Lot B
• C-Building
• T-Building
The loop's hours of operation are Mondays through Thursdays from 7:30 a.m. to 10 p.m. with service every 10 minutes, and Fridays from 7:30 a.m. noon with service every 20 minutes.
Campus Loop connects with Laketran Local Routes 1-6 at the Clocktower bus stop. Students can ride Local Routes free with a valid Lakeland Student ID anytime and anywhere.
A Campus Loop flyer can be downloaded here.