FOR RETURN SERVICE TO LAKE COUNTY
Laketran buses are at Lakeside & E.13th if you're ready to return to Lake County. Buses running first come, first serve to Eastlake and Mentor. Service will continue until 5:00 pm
Lake County, OH –  Laketran will operate detoured Park-n-Ride service for Routes 10-13 plus additional special Park-n-Ride parade service on Wednesday, June 22, 2016.
Route 10-13 Detour
Laketran will operate regular weekday Park-n-Ride service for Routes 10-13 on its daily schedule from all nine Park-n-Ride locations throughout Lake County.  Park-n-Ride Routes 10-13 will operate the following detour for all morning and afternoon runs. See map below.
Routes 10-13 begin at Chester Ave. & E.21st Street
Chester Ave. to E. 13th Street
Right on E. 13th St. to Lakeside Ave.
Right on Lakeside Ave. (end of service)
All afternoon runs on Route 10-13 will use the above detour using regularly scheduled E. 21st departure times.
Special Park-n-Ride CAVS Parade Service
In addition to regular Park-n-Ride service Laketran will provide special Park-n-Ride service to the Cleveland Cavaliers NBA Championship parade for area residents on Wednesday, June 22, 2016.
Additional Park-n-Ride special service will operate from two Park-n-Ride locations:
Mentor Park-n-Ride, 8650 Market St, Mentor, OH 44060
Eastlake Stadium Overflow Lot, 35100 Vine Street, Eastlake, OH 44095 (located west of SOM Center, must enter from Vine Street)
The special service will operate as first come, first serve beginning at 6:00am. As buses become full, Laketran will dispatch them to the special service bus stop at the northeast corner of Lakeside Ave. and E. 13th St. and return to Lake County for additional runs into Cleveland as needed. Return service to Lake County will operate from Lakeside Ave. & E.13th as soon as riders return to the bus stop and will continue until 5:00pm.  The last special buses returning to Mentor Park-n-Ride and Eastlake Stadium will depart Lakeside & E. 13th at 5:00pm.
Parking is free. Bus fare for all Park-n-Ride service on Wednesday, June 22 is $5.00 round trip per person for an All Day Pass. Children 2 and under are free, but must sit on an adult lap. Cash payments in exact change will only be accepted when boarding the bus.
For safety of all passengers:
No bikes will be permitted.
No open containers will be permitted.
Carpooling to the Park-n-Ride lots is encouraged.
Strollers can be stored in luggage compartment, as space is available.
Due to the large number of people expected downtown tomorrow and possible service changes, Laketran encourages signing up for Rider Alerts by texting LAKETRAN to 440-517-8100. Rider Alerts also will be posted to www.laketran.com and Laketran's Facebook and twitter accounts.
Laketran will provide Bus on Shoulder service and drive on the highway shoulders along I90/SR-2 westbound and eastbound between the Euclid Spur and downtown Cleveland when traffic is traveling less than 30 miles per hour.
Follow the fun at @Laketran or #LaketrantoTheLand
Map for Regular Park-n-Ride Routes 10-13 and Special Service Bus Stop.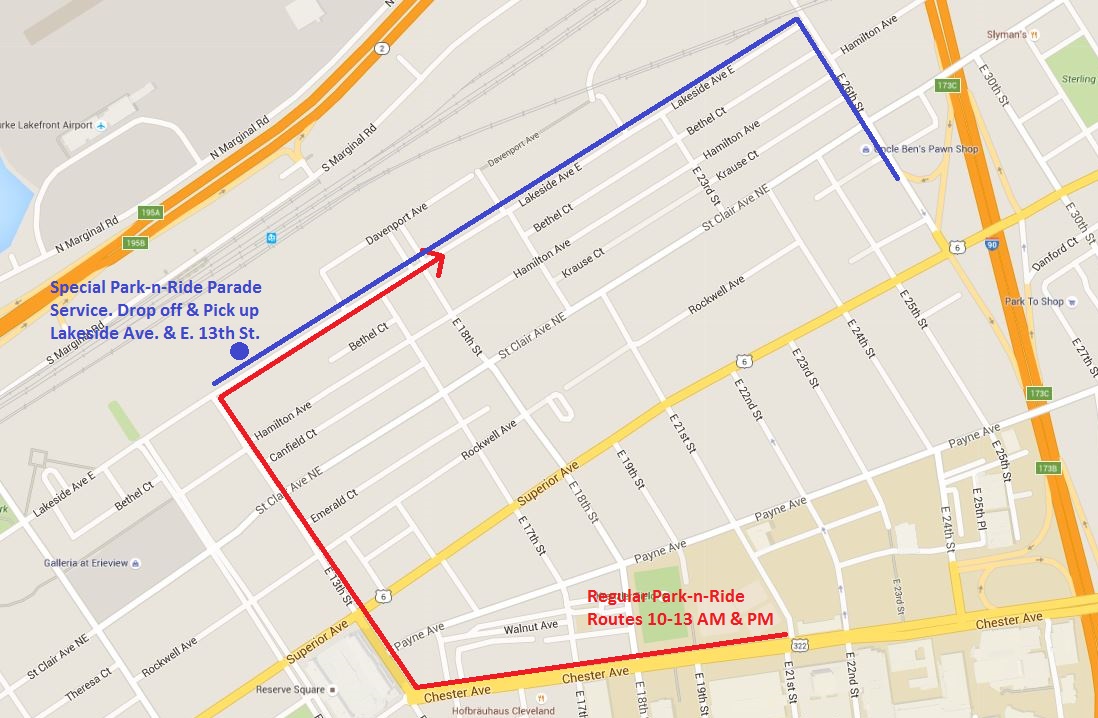 Important information from City of Cleveland download here.