Avoid the pain of the pump. Save on gas and maintenance with Park-n-Ride.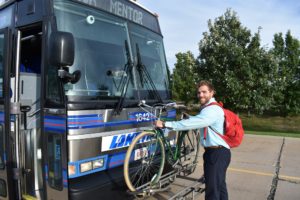 Fill out form below and we'll mail you a 10-trip bus pass to try Park-n-Ride free for a week! Or we can add the value to our EZfare app to store your bus passes on your phone.
Laketran offers 17 daily departures from Lake County to Cleveland.
Find a Park-n-Ride close to you.
Route 10: Mentor Park-n-Ride – 8650 Market St.
Route 11: Madison Park-n-Ride – 200 Water Tower Drive, Lakeland Community College Park-n-Ride at the Laketran Transit Center

Route 12: Eastlake Transit Center at Classic Park, St. Mary Magdalene's, Shoregate Shopping Center, Wickliffe Park-n-Ride – 29551 Lakeland Blvd.
Painesville Twp./ Grand River serves Routes 10-12: Laketran Headquarters Park-n-Ride, 555 Lakeshore Blvd. (near Grand River)
Only one free ride pass will be issued per person. Free ride passes can be added to your EZfare account or mailed to you. Passes are eligible on Laketran Park-n-Ride only.