Laketran's fleet of 148 vehicles traveled 4,294,825 miles in 2022 to help residents access jobs, medical appointments, school, shopping and more. Our professional team of diesel mechanics completes over 5,200 preventative maintenance repairs annually to keep our transit service safe and reliable.  Knowing that vehicle emissions contribute to our regional air pollution, Laketran has diversified our fleet to operate clean diesel, electric and propane vehicles to reduce our carbon footprint and improve the air quality in Northeast Ohio.
Dial-a-Ride Fleet
42 Propane Dial-a-Ride Buses, 13 Diesel Dial-a-Ride Buses
In 2017, Laketran began to transition our Dial-a-Ride fleet to propane buses and smaller vans in an effort to reduce both operating expenses and vehicle replacement costs, while providing more fuel efficient and eco-friendly public transportation for Lake County.  Laketran aims to complete its transition from diesel to propane paratransit buses in 2023.
Environmental Advantages:
Propane is a clean burning fuel due to its low carbon content and significantly reduces smog forming hydrocarbons and greenhouse emissions, compared to gasoline and diesel fuels. Additionally, propane is American-made, reducing independence on foreign oil. Operating propane-fueled buses also reduces our fuel expenses by 35% in addition to saving maintenance expenses.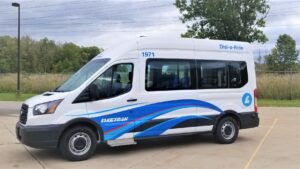 33 Gasoline Ford Transit Vans
In 2019, Laketran introduce passenger vans into our Dial-a-Ride fleet as another way to reduce vehicle costs and make the Dial-a-Ride service more efficient. These Ford Transit vans are 100% ADA accessible and equipped with with a rear-mounted lift to assist passengers with mobility devices.  The vehicle size is also helpful when picking up passengers with narrow driveways or along the street, because the lift is deployed from the rear of the vehicle instead of the side lift that is used on the larger Dial-a-Ride buses.
---
Local Route Fleet
10 Electric New Flyer Transit Buses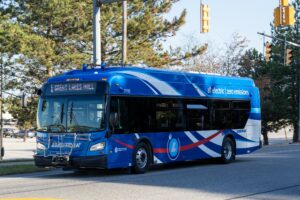 In 2021, Laketran deployed ten 35-foot New Flyer xcelsior CHARGE electric transit buses, transitioning 60% of our Local Route transit bus fleet to zero emission vehicles. Laketran is using the industry's leading ABB en-route fast charging system that allows buses to charge throughout the day, without returning to base for traditional depot charging.  Charging stations located at Frank J. Polivka Transit Center at Lakeland, Painesville Transfer Center, Wickliffe Transit Center and Laketran Headquarters allow Laketran to electrify up to five routes daily.
Environmental Advantages:
By adding a fleet of battery-operated, zero-emission electric buses to our transit bus fleet, Laketran is now the the lowest polluting transit fleet in Northeast Ohio and most energy efficient. Not only does operating electric buses improve air quality, but it also significantly reduces maintenance costs and eliminates noise pollution for our riders and others on the road.
7 Clean Diesel Transit New Flyer Buses 
In 2021, Laketran replaced a portion of our transit bus fleet with clean diesel buses.  New Flyer's clean diesel technology combines ultra-low sulfur diesel fuel, advanced engines, and effective emissions controls, resulting in a highly efficient and virtually smoke-free engine that can achieve lower emissions, reduce greenhouse gases, and reduce the cost of bus operation.  The body style and graphics of our diesel transit buses look nearly the same as our electric buses, without the charging equipment on the top of the bus.
7 Ford E450 Paratransit Buses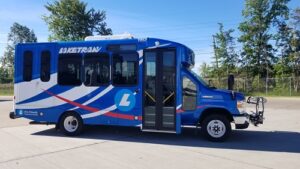 Laketran also uses Ford E450 Terra Transit cutaways to operate our Local Routes in less populated areas.  These buses are ADA accessible and equipped fixed-route amenities including bike racks, a destination sign, GPS vehicle tracking, and fareboxes.
2 Shuttle Buses by New England Wheels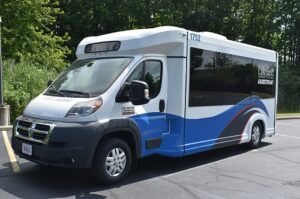 Laketran has a growing fleet of low-floor New England Wheel shuttle buses that are flexible, economic, and reliable.  These "minibuses" are perfect to operate our campus shuttles or Local Routes that can function with a smaller vehicle.
 
---
Park-n-Ride Fleet
20 Clean Diesel Commuter Coach Buses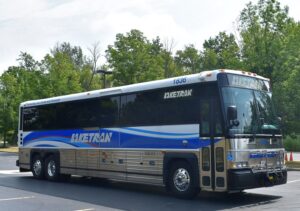 Laketran's 40-foot coaches seat 47 Park-n-Ride passengers in enviable comfort. Plush, forward-facing seats will let passengers recline comfortably with plenty of legroom. Fitted with two exterior bike racks, the coaches are also equipped with a wheelchair lift, overhead storage compartments, electronic fare boxes, and on-board security cameras.
Environmental Advantages:
Our Park-n-Ride buses feature the latest clean-diesel technology with near-zero emission to comply with the most recent emission standards and a new engine and transmission to deliver better fuel efficiency. In general, motor coaches are the most fuel-efficient, per-passenger-mile mode of motor transportation, surpassing the car, plane or train, providing a clean-air transportation option.