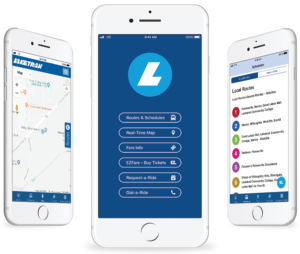 Riding Laketran is a lot easier when you download the Laketran app whether you use Local Routes, Park-n-Ride or Dial-a-Ride. You can track your bus, pay your fare with EZfare, or book or track your trip on Request-a-Ride. The free Laketran App is now available in the App Store and on Google Play.
Get schedules & fare information
Track your bus
Pay your fare with the EZfare app – For Local Routes & Park-n-Ride customers
Access your Request-a-Ride account – For Dial-a-Ride customers
One click access to our Customer Service Team with Click-to-call Dial-a-Ride
Download today!